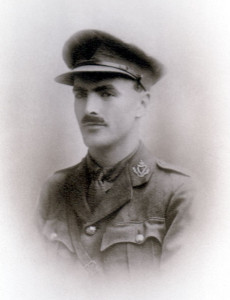 Tom Crofton was born on October 3rd, 1889 at Longford House, Beltra near Ballisodare, Co Sligo. He was the younger son of Sir Malby Crofton Bart, landlord and Lady Louise Margaret Crofton nee Verschoyle. Coming from a relatively privileged Anglo- Irish west of Ireland background Tom was sent to the Aravon School in Bray, o Wicklow aged 11. He spent three years in Bray before completing his education in Malvern College in Worcestershire. At Malvern he excelled at soccer and cricket and was a school prefect. He was also a member of the college officer training Corps. In 1908 he returned to Ireland and entered Trinity College to study engineering. Tom graduated from Trinity in 1912 as a Civil Engineer and went to British Columbia in western Canada to work.
On August 5th 1914 when War was declared Tom Crofton immediately enlisted in the 16th Canadian Scottish Infantry as a Private soldier No 28960 and within a few months found himself in Salisbury Plain in England as part of the Canadian Army being trained to join the hard pressed British and French armies in France and Flanders. On December 29th 1914 he applied for a commission with his local regiment the Connaught Rangers and was accepted and appointed a 2nd Lieutenant in the 3rd Battalion Connaught Rangers on January 11th 1915. He was made a full Lieutenant three months later and promoted to Captain in August 1915.Tom Crofton was posted overseas in late 1915 but within weeks had fallen ill with trench fever, a type of jaundice, which occurred as a result of the filthy conditions in the trenches. He was invalided home on December 4th 1915 and after three months in a hospital in London before returning to Co Sligo to recuperate in April 1916. He rejoined the Connaught Rangers at Charles Fort in Kinsale in May 1916 and was declared fit, for home service only, by a Medical Board in Cork. On July 17th 1916 the same medical Board declared Tom Crofton fit to return to full duties and he prepared to return to the Front. After the severe casualties suffered by the 6th Battalion Connaught Rangers at Guillemont and Ginchy in early September 1916 fresh drafts of officers and men were posted to the Battalion at Locre in Belgium. Captain Tom Crofton joined the 6th Connaught Rangers on October 9th, 1916 at La Clytte Camp, Locre, in Belgium. He was posted to B Coy. He later was attached to the 47th Brigade Trench Mortar Battery, which was common enough at this time; as such temporary attachments gave infantry officer's valuable experience in handling light mortars. He rejoined the Connaughts on January 18th, 1917.
On March 8th, 1917 the 6th Connaught Rangers were holding the Front line in the Spanbroek Sector facing Messines Ridge, south of Ypres. Initially the day was quiet but at 3.30pm the enemy opened up an intense barrage of artillery and mortar fire on the trenches occupied by the Rangers. At 4.40pm two German raiding parties got into the trenches of the Battalion on the left of the Rangers position and attempted to gain access into the Rangers trenches. The Rangers formed a defensive flank and Captain Tom Crofton in charge of a party of bombers led a counter attack against the enemy. The German raiding parties were driven out of the trenches and caught by Lewis gunfire in the open as they attempted to get back to their own lines. The line was held and disaster averted. For his actions on that day Tom Crofton was recommended for an award for gallantry and he was awarded the Military Cross on March 27th, 1917 for actions on March 6th.
His MC citation was in the London Gazette in April 1917 pp 3935. "Spanbroek Sector 8/3/17- For conspicuous gallantry and devotion to duty. He organized a counter attack and went to the assistance of another unit, thereby driving the enemy back at a critical time. He has at all times set a fine example of courage and initiative."
Tom Crofton remained with the 6th Battalion through 1917 and was promoted to Acting Major while Second in Command of the Battalion for a period in July 1917 and again in September 1917. He took part in the successful attack on Wytschaete Ridge on June 7th 1917. He was lucky enough to miss the disastrous campaign at Passendaele as he had been posted to the Reserve Division on July 21st as musketry instructor but rejoined the Connaughts a month later, after they had be transferred to France.
In the early hours of March 21st 1918 Tom Crofton was with his Company in the village of Villers Faucon with the rest of the 6th Battalion spending a brief time out of the line in Divisional Reserve when the village was intensely bombarded. The bombardment commenced at 4.50am and was uncannily accurate pinpointing supply dumps and supply lines and destroying communications. It was the beginning of a massive German offensive and the sector being held by the 16th Irish Division was one of areas selected for a German breakthrough. At 12.53 in the afternoon the 6th Connaught Rangers were ordered forward to meet the attacking enemy and the Battalion proceeded east.
Near Ronssoy Wood, contact was made with enemy troops. At 3.45pm the Rangers were ordered to counterattack. A Company led by Captain Crofton was to attack on the left with D Company on the right along a sunken road to the west of Ronssoy Wood. With little or no accurate intelligence on the strength of the enemy and in the midst of a terrific whirlwind of shell and rifle fire Tom Crofton led his men toward the Wood. A Coy was soon flanked on both sides by thousands of enemy storm troopers and the entire Company was annihilated. Captain Crofton MC was killed leading his men forward and his body was never recovered. He was 28 years old and single at the time of his death. His body, like many of his men, was never recovered. He is remembered on Panel 77 on the Pozieres Memorial on the Somme along 57 enlisted men of the 6th Battalion Connaught Rangers who fell on March 21sdt 1918 and have no known grave.
In the small picturesque Church of Ireland in Beltra, Co Sligo a memorial panel commemorates Captain Thomas Horsfall Crofton MC.
Tom's older brother Major Malby Crofton served with the Royal Artillery and was awarded a Distinguished Service Order. He returned to Longford House and died there in 1961. Longford House was somehow spared the burning and destruction of the Civil War and remains intact at Beltra.
In 2003 the Tom Crofton's niece Catherine Crofton kindly donated his Military Cross to the Connaught Rangers Association and it is displayed in King House museum.
Thomas Crofton's army records researched by Oliver Fallon Researcher CRA Additional information and photo supplied by Malvern College, Worcs