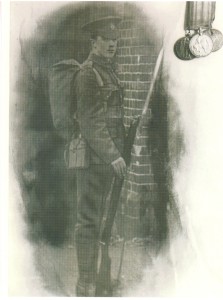 No. 3/7706 Private John O'Donoghue the son of John and Kate O'Donoghue (nee Callaghan ) of Higgins Lane, Watergate Street, Bandon, Co Cork was seventeen years old when he was killed on February 8th 1917. He became Bandon's youngest casualty of the Great War. John was the eldest of a family of seven, having three brothers and three sisters. Born on November 14th 1899 at Cork Road, Bandon, he received his early education at St Fintan's Boys National School, Bandon. He first endeavoured to enlist when he was 16 years of age with the Connaught Rangers his preferred choice, the 3rd Battalion being at time stationed at Kinsale and the 4th Battalion at Crosshaven. When his mother found out of his intentions she went to the local recruiting office and divulged his correct age and he was not accepted. Undaunted he tried again when he reached 17 and this time, on August 29th 1916, he was accepted, enlisting in Cork city.
His enlistment papers state that he joined as a soldier for Short Service (For the duration of the War). He gave his address as Watergate, Bandon. Gave age as 19 years. Gave date of birth as August 29th 1897. Occupation Labourer. Single. Height 5' 5 ¾ '' Girth 35 ½ '' Distinctive marks -contracted little finger left hand not likely to interfere. No signature just a mark. He gave his next of kin -father John O'Donoghue, Watergate, Bandon.
On September 5th 1916 he joined the 3rd Connaught Rangers at Kinsale and began his basic training at Charles Fort. His papers do not state if John O'Donoghue was a good soldier he was disciplined on three different occasions for minor matters including being absent from barracks. However John was not going to have to wait long for action and within four months he was deemed ready to be posted overseas. Having received orders to go to join the 6th Battalion at the Front John filled out his soldiers last will and testament on December 18th 1916 at Kinsale barracks, leaving all his belongings to mother Mrs Kate O'Donoghue. He was posted to overseas 11 days later on December 29th 1916. He arrived in France on December 30th 1916. He was posted to C Company 6th Connaught Rangers at Locre, Belgium January 1st 1917.
Following the terrible losses inflicted on the 6th Battalion Connaught Rangers at Guillemont and Ginchy in September 1916, large drafts of recruits were dispatched to Flanders to replenish the Battalion when it was moved to the Kemmel sector south of Ypres in the autumn of 1916. Among the newly arrived soldiers were a considerable number of youngsters, still in their teens, including John O'Donoghue. In February 1917 John found himself near the Front Line at Kemmel. His Commanding Officer Lt Col Rowland Fielding gives an account of the weather at the time." It was and had been like the artic, with a biting east wind. The breastworks in the trenches were in a very bad state, frozen hard as stone with the ground white with snow. The troops had to spend four days and nights at a time in the trenches in the paralysing cold, without exercise or heat".
On the 7th of February the battalion was out of the Front Line in Divisional Reserve at Kemmel Shelters, an encampment of wooden huts just off the main Locre to Kemmel road. The camp was thought to be a safe spot, as it was well hidden in a wooded depression well back from the firing line. Nevertheless enemy aircraft must have spotted them and suddenly, at 10.30am, enemy 5.9 howitzer shells began to land with precise accuracy on the huts occupied by A and B Coys and part of C Coy. Luckily A and B Coy were out of the huts on parade at the time and were able to take cover quickly. Unfortunately a direct hit was scored on a hut occupied by the men of C Coy as they dashed outside and it was here that the casualties occurred. As the Rangers made their way across the road out of the shellfire the enemy anticipating their reaction lengthened their range in an attempt to cause more casualties. In the afternoon the men returned to gather up their equipment and belongings and were moved to safer billets. The surprise shelling had damaged rifles kit etc and killed three men and wounded eleven. The dead men were Pte James Bannerman aged 34, a veteran of the Boer War from Foley Street in Dublin, Pte. Owen Treanor, aged 22 from Emyvale, Co Monaghan and Pte John O'Donoghue, aged 17 from Bandon. All three were buried side by side in Kemmel Château Cemetery. The following day, a fourth man Pte James Hamilton from Drumshambo in Co Leitrim died in a field hospital from his wounds. He was buried in Bailleul Military Cemetery in France. Four men from the four provinces of Ireland selected for death by a random shell fired by a German artilleryman that sighted his gun, many miles away, with deadly accuracy.
Pte John O'Donoghue's enlistment papers state that his total army service was 123 days at home and 41 days overseas; 164 days in all.
When word reached home of John's death, his family were devastated. His younger brother Timothy, aged 10, was working with a local farmer when news reached him. He subsequently went to work at the local timber firm of Hartes, married and raised a family who immigrated to England. On his retirement he and his wife joined their family in England. Members of his family regularly visit Kemmel to pay respects to their uncle. The family of John's other brother, Patrick, still reside in Bandon and have photographs of him along with his war medals.
He lies in grave number 18 Row L Kemmel Chateau Cemetery near where he died. He was one of nearly 2,500 officers and men of the Connaught Rangers who were killed in action or died of wounds or disease in the Great War.