Lance Serjeant John V. Durkan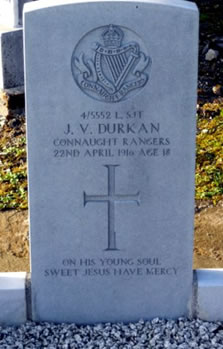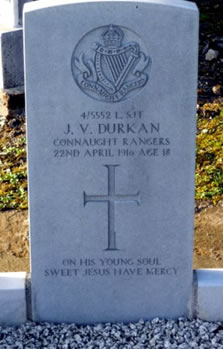 I attended the formal blessing of the newly constructed grave of 4/5552 Lance Serjeant John V. Durkan, 4th Battalion Connaught Rangers, on the grounds of Killala Cathedral, on Remembrance Sunday12 November 2017. I found it to be an emotional, educational and memorable event.
I had not known anything about the particular soldier but the Connaught Rangers Association had been informed about the blessing and I was nominated to represent the association. The new grave looked extremely well and there was a good crowd assembled for the blessing. We were warmly welcomed by the Rev Jennifer McWhirter, the church wardens and members of the Church of Ireland congregation. In attendance were members of the Irish Guards Association, to attend the blessing of the grave and to remember three Killala born member's of their own regiment who died during World War One. Sgt Thomas Ryan represented the Devon & Dorset Regiment; Tom Currivan, represented the Organisation of National Ex Service personnel; Capt Donal Buckley (Rtd) Irish Defence Forces, was present and other regiments were also represented. Michael Feeney M.B.E who had restored the grave, and I represented the Connaught Rangers Association. The Mayo Peace Park committee was represented at the ceremony by Ernie Sweeney and Brian Sharkey.
Mayo-based international poets Mike Byrne and Anni Wilton-Jones read some relevant poetry and Mr Brian Sharkey gave a stirring rendition of a song about the Royal Dublin Fusiliers. On that sunny, chilly morning in Killala, we felt part of the worldwide Armistice Day 2017 remembrance event's and we remembered those who served and died in all war's and conflict's. The man who had organised the ceremony was one of our own long serving Connaught Rangers Association members, Michael Feeney M.B.E. Secretary of the Mayo Peace Park Committee and Chairman of the Mayo World War Graves Committee. Michael thanked the Rev Jennifer McWhirter, and churchwardens for allowing him develop and restore the grave. He had identified the grave as one that needed urgent restoration and he had set about the task by obtaining the necessary permission.
Each grave refurbishment is done on a voluntary basis and involves a considerable amount of manual labour and expense. He is a remarkable man, who has boundless energy because not alone does he organise dozens of events at the Mayo Peace Park he also finds time to restore and develop the graves of world war soldiers, sailor's and airmen. He regularly invited to give talks and lectures in schools and historical organisations around Mayo, Ireland and further a field. He had already organised an Armistice Day Ceremony in the Mayo Peace Park and the Annual Remembrance Mass for County Mayo in Charlestown the previous evening. This is something he has kept going since 1999. If that was not enough we all headed off to another graveside remembrance event in Ballycastle, in memory of a young soldier Edward George Lane of the Devon & Dorset Regiment, whose body was washed ashore during World War Two.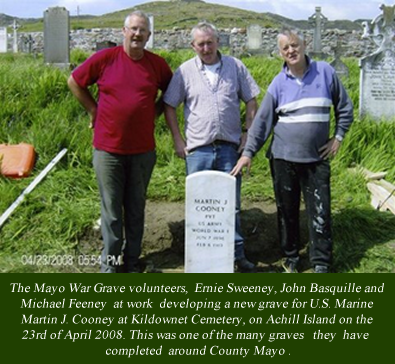 It was no surprise that the first grave they undertook was that of a Connaught Rangers War Hero Private John Roache D.C.M. who died at an advanced age and had no grave marking to show that he even existed, the committee developed a full grave for him .
In a moving graveside oration in Killala, Michael Feeney said it was fitting that the blessing of Lance Serjeant John V. Durkan's grave was happening on Remembrance Sunday 2017, the 99th Anniversary of the signing of the Armistice which ended the carnage of World War One. Since then on this day all over Europe & all over the World, people still gather to remember Armistice Day. He said that, Lance / Serjeant John V. Durkan, of the 4th Bn, Connaught Rangers Regiment was a very young man, he was just 18 years of age when he died. He was the son of Mr P.W. Durkan, Chapel Street, and Killala. He was a well-educated, competent and capable man. He was reported as being an exceptional soldier, a first class gunner and riflemen and all the officers and soldiers of the regiment respected him. He was promoted to the rank of Lance Serjeant, in a very short time. He did not die in the war, he died in a military hospital in Fermoy, Co. Cork on the 22 April 1916.
It appears that he had been struck down with a severe cold and he developed a serious kidney aliment with other complications and this caused his death. He received a full military funeral from Fermoy in Co. Cork, the regimental band escorted the funeral cortege playing the "Dead March in Saul", followed by his comrades marching with reversed arms. The funeral cortege then left Fermoy and made the long journey to Killala. He was buried in the grounds of Killala Cathedral. The Irish weather had taken its toll on the grave and after 101 years it needed serious attention. That was why he had decided to restore the grave.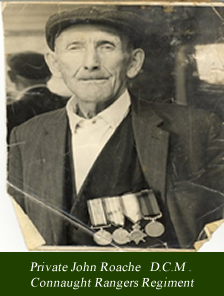 He said that if Lance Serjeant John V. Durkan had not died at that time, he probably would have been sent over to France, and would no doubt have been involved in the Battle of the Somme in 1916, and if he survived that slaughter, he would have been involved in many of the horrific battles during 1917 / 1918. Michael Feeney's own grandfather, Private Patrick Feeney, Connaught Rangers was killed in action on the 22 July 1915 but was billeted in Cork before he was sent to France. He wondered if they had ever met in Cork or if they even knew of each other as Mayo men. He added that he would like to think that they were both looking down on everyone that morning, and if so, he hoped that they were pleased to be remembered with such affection.
This was followed by a Remembrance Sunday Morning Service in the Cathedral, with a specific act of remembrance, during which a further wreath was laid by Donal Daly of the Irish Guards Association. The names of 25 Killala born soldiers, sailors and airmen who lost their lives in World War One were then read by Michael Feeney M.B.E. He also remembered Private Patrick McHale V.C. from Killala, a Victoria Cross recipient and noted the five other Killala born Connaught Rangers soldiers who died in World War One:
Private Thomas Kearney 5th Bn – who died on 7 December 1915,
Private John McHale 6th Bn – who died on 7 January 1917,
Private Patrick Carroll 6th Bn – who died on 21 March 1918 and
Private Michael McHale 6th Bn – who died on 20 November 1918.
The Last Post and Reveille was sounded at that point.